I grew up in the 60's and 70's and, as was the case for many working class families back then, I remember there was never a lot of money around during my childhood years. I feel very blessed, however, to have been raised in a home where music and the arts played a big part in our development, and where we learned to delight in the simple beauty of the natural world.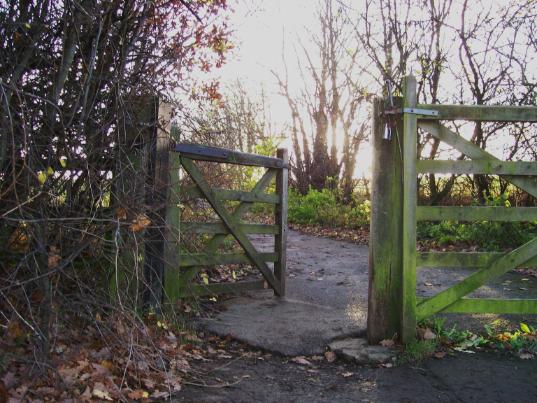 Music was indeed a constant companion during my growing up years. A varied mixture of styles inevitably found its way into our airwaves. Petula Clark's Downtown, Dionne Warwick's Walk On By, Mason Williams' Classical Gas, more Beatles' songs than I care to name, even a bit of early Rod Stewart - they were all part of the soundtrack of our early lives. Later, as I progressed into my teenage years, along came the whole New Wave scene with the likes of Gary Numan, Ultravox, OMD and a load of others. But there was one dominant, unwavering constant along our melodic pathway; one type of music which stayed with me as all the others fell by the wayside. And that was classical.
As well as the numerous 7" vinyls (both new and ex jukebox) which found their way into our home, we also had an impressive collection of classical 78's. Both my parents were pianists and we had a rather charming bust of Ludwig van Beethoven which sat in a place of honour on top of the piano in our front room. There are two particular pieces which remind me of the early period of my life - the third movement of Beethoven's Symphony No. 7 and Prokoviev's Classical Symphony. Both works are so embedded in my memory, they instantly transport me back in time whenever I hear them. I seem to think the Beethoven piece may have been used as the theme music for a Sunday morning radio programme. (I've come to that conclusion because the tune immediately conjures up the smell of bacon frying - in those days my mum always cooked full English breakfast after Mass.) The Prokoviev piece has another Sunday association. Anyone of a certain age might remember that wonderful Yorkshire Television series, The Flaxton Boys, which aired on Sunday evenings between 1969 and 1973. (Go on, type it into Youtube and see if the memories don't come flooding back ...!)
Anyway, as I've grown older, my appreciation of classical music has deepened. I think if I had to pick a favourite composer it would have to be Ralph Vaughan Williams, but he'd be very closely followed by a whole bunch of others. If you're new to the classical scene, please allow me the pleasure of sharing just a few of my fave tunes with you. Once you get a little taster, you'll be hooked.
Ralph Vaughan Williams - the Romanza from his Symphony No.5
Maurice Ravel - the Menuet (orchestrated version) from Le Tombeau de Couperin
Bruno Coulais - Caresse sur l'Océan and Vois sur ton Chemin (from the soundtrack of Les Choristes, 2004)
Alexander Borodin - In the Steppes of Central Asia
Claude Debussy - Prélude de l'Après-Midi d'un Faune
Aram Khachaturian - Adagio from Spartacus and Phrygia
Gabriel Fauré - Cantique de Jean Racine
George Butterworth - The Banks of Green Willow *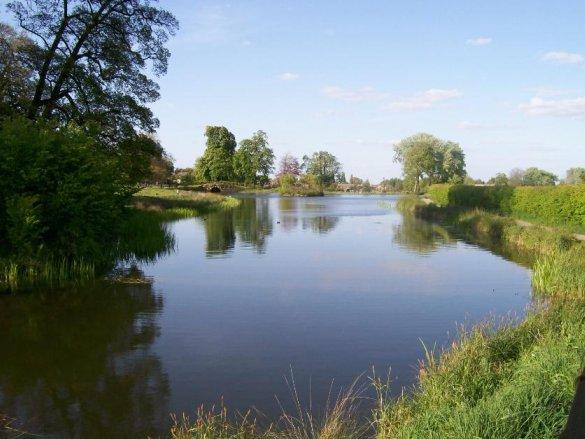 * While doing the research for my book, A Song in the Night, I made some interesting discoveries about George Butterworth. Showing musical promise from an early age, Butterworth attended Eton and later went on to Oxford where he established friendships with several notable musical figures, among them Ralph Vaughan Williams. Joining the British Army at the outbreak of the First World War, he left for the front in 1915, but not before taking the decision to destroy many of his compositions. Aware that he may not return home from the fighting and be able to revise his works, he got rid of anything that did not meet his satisfaction. Tragically, a few weeks after being awarded the Military Cross for gallant action at Pozières during the Battle of the Somme (he never lived to receive it), he was killed by a sniper's bullet on 5th August 1916. There's one detail that, for me, sums up the tragedy of the Great War. When Butterworth's superior officer wrote to his family to inform them of their son's death, he was shocked to discover that in civilian life, George had been one of the country's most promising up-and-coming composers. Likewise, Butterworth's family had been completely unaware that George had earlier won the Military Cross. Brigadier Page-Croft wrote that Butterworth was 'A brilliant musician in times of war and an equally brilliant soldier in times of stress'. For me, George Butterworth's death epitomises the loss of a whole generation. One can only wonder what wealth of dreams and treasures died with these men who were destined never to grow old.
Anyway, on that contemplative note I'll leave you with my small selection of musical suggestions. Some nice ideas for you to look up on Youtube. Get the kettle on and grab yourself a bit of chillout time.
Reading is another of my favourite things. I just love it. I can't tell you how much I adored Rupert annuals, Enid Blyton's Famous Five adventures and Alf Prøysen's Mrs Pepperpot stories in my childhood. Another vivid memory from that period still gives me a warm glow when I think about it. A book club was set up at my primary school and I remember placing my very first book order - for The Country Bus by Rosemary Garland. Holding that little paperback in my hand, I felt I'd truly arrived - a real, grown-up literary connoisseur! Well, that was rather a long time ago. Many years and many books later, I think my favourite book (currently, at least) has to be C. S. Lewis' autobiographical work, Surprised by Joy. It's not, perhaps, so much an autobiography as a detailed record of how, after much struggle and soul searching, Lewis eventually came to faith in Christ. He put up quite a fight, bless him, but God got him in the end. Written with keen wit and lucid observation, you really feel like you've met every character by the time you reach the end of the book. Don't remember how many times I've read it or dipped into it, but it never gets old. If you haven't read it, you really should. It's delightful.
Being an avid reader, I can even get a modicum of pleasure from perusing something as simple as a cereal packet. But I have to say, I really appreciate good writing; y'know, the sort of stuff that leaves you thinking 'Wish I'd written that'. I love to see words in the hands of a master craftsman. One such work that I've recently rediscovered is Laurie Lee's Cider with Rosie. (Sad to say, I neglected this wonderful piece for many, many years, owing to the fact that I first came across it on the list of required reading for my school's English Literature syllabus. In my ignorance at that time, I promptly concluded that it must be utterly boring and resolved only to read as much of it as was necessary in order to scrape through the exam. Thankfully, it eventually came back to haunt me.) My favourite chapter in the book is 'Mother'. I've read it soooo many times. The descriptions are so beautiful, the recollections so insightful and poignant, I find myself laughing out loud one minute and tearing up the next. My heart goes out to that dear woman more than I can tell you. (I can identify with Mother Lee on the old being-late-for-the-bus thing. In the days before I learned to drive, I reckon my own kids could have written a very similar account about yours truly.) I won't give any more away in case you've never read it but, like the last book I mentioned, you really need to get yourself a copy. Sumptuous writing.
Before I leave the reading bit, I'll just add another small detail. Now I really enjoy visiting garden centres with my daughters. Not, I confess, to buy plants or potting compost. No, the attraction lies rather in sampling the coffee, sniffing the candles and other olfactory delights, marvelling at the ever-changing ranges in home decor (as well as wondering who on earth manages to come up with the ideas for the weird and wonderful artefacts on display) etc. etc. etc. But for me, the real highlight of every trip is to be found in the book corner. Yes, you've guessed - the wit and humour section. Some of those books are just laugh-out-loud hilarious. I'm invariably to be found doubled up in a heap and hooting with undignified laughter as I flick through the latest addition to the shelves. My poor daughters have endured this humiliation so many times, it's not even funny (well actually, it is funny. When I look at their disapproving faces it makes me twice as bad. The worst bit is when my eldest tut-tuts at me and tells me she feels like my mother.) The bottom line is, some things just tickle me. And when I get tickled, I'm undone. (Just ask said poor, long-suffering daughters what I'm like at the cinema. Yes, I manage to embarrass them there too.)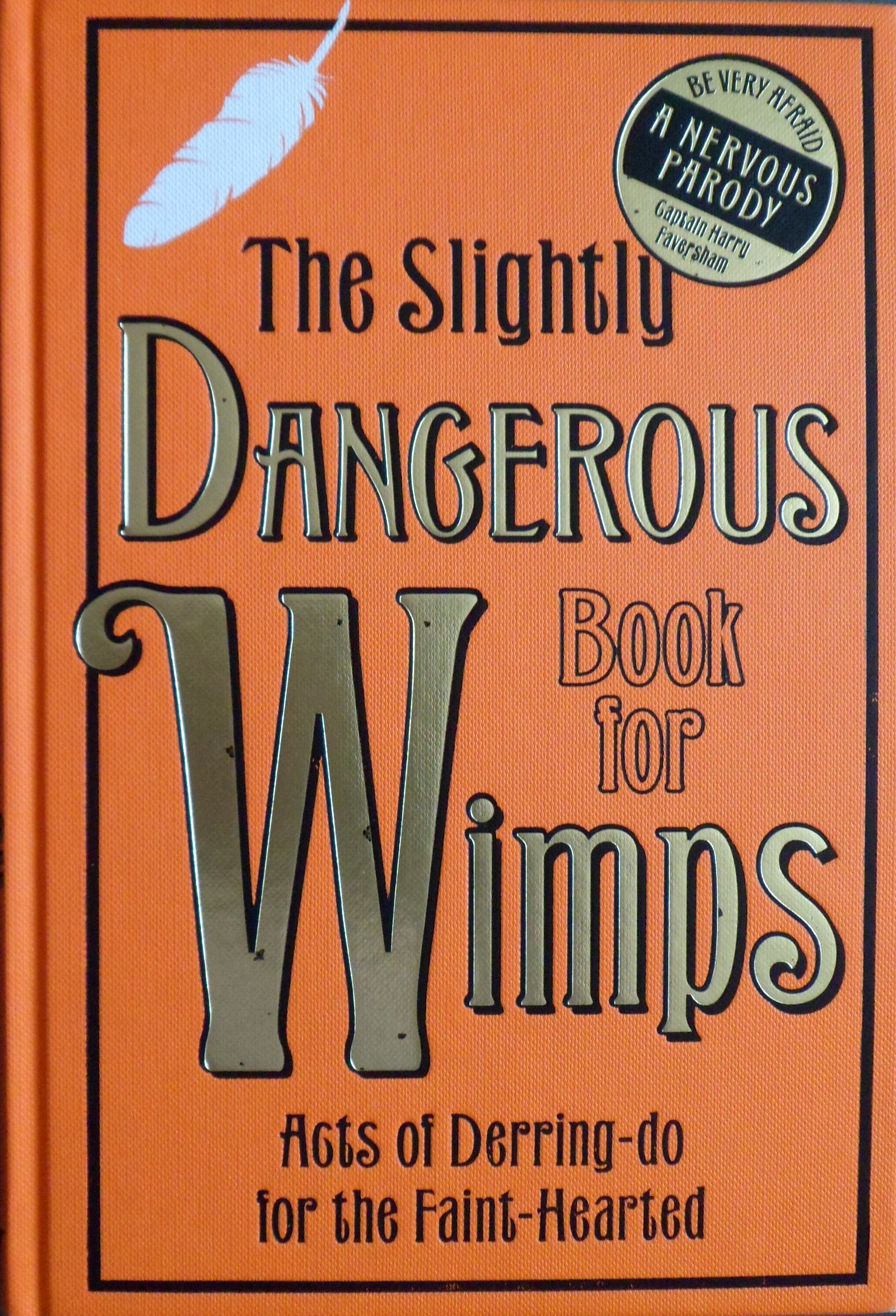 One of my favourite pieces of ridiculous reading
The Slightly Dangerous Book
for Wimps
published by Ivy Press, 2009. This amusing tome managed to reduce me to a giggling wreck on numerous garden centre visits before my mother took pity on me and bought me my own copy.
A slight detour now as I confess to another of my favourite things. Long distance flying. Now here's a bit of a contradiction. While the thought of flying terrifies me (I really haven't got my head round all the reassuring laws of aerodynamics), I am strangely thrilled at the feeling of being 40,000 feet up in the air. What can be more awe-inspiring than looking down on billows of towering cumulus or watching a new dawn steal across a pristine sky? Whether it's marvelling at the stunning white glory of Greenland or flying by night over the States, each sprawling city shimmering in the blackness below like a vast carpet of lights (my, how I love gazing down on Atlanta) - whenever I'm airborne I can't help but find my head bursting with happy thoughts. I am so in awe of God when I see this planet from the sky.
There is no one like the God of Jeshurun,
who rides across the heavens to help you
and on the clouds in his majesty.
The eternal God is your refuge,
and underneath are the everlasting arms.

Deuteronomy 33 vs 26-27 (NIV)
My favourite Bible verse for flying, especially the last line (very comforting if you're a bit nervous about being up in a plane)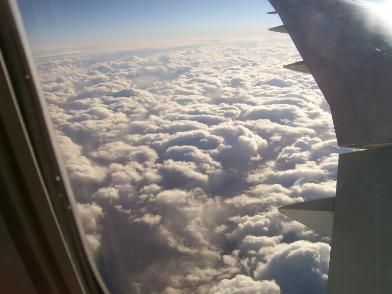 Coming back to earth, I'm equally impressed when I admire creation from ground level. As a child, I enjoyed many family holidays in the small, rural village of Thorganby, about ten miles outside of York. I still remember the excitement of going on nature walks. Back at school we had a nature table, and I saw it as my solemn duty to amass as many prize exhibits as possible for the collective enjoyment of my classmates. I've never really grown out of it. Pine cones, shells, fossils, feathers - you name it, I still pick it up. By the way, did anyone else have an I-Spy book? Honestly, I still get a bit excited whenever I think of those little volumes. For younger readers to this website, that's how we did it in those days. If you saw something interesting, you didn't film it on your phone and slap it on Facebook - you ticked it off in your I-Spy. Oh, it didn't stop there. On completion, the book could be sent off to Big Chief I-Spy himself and the observant spotter would be rewarded with a special badge. And folks wonder how we used to amuse ourselves before modern technology ...
When our children were young, we liked nothing better than to pack up a picnic and get out exploring. Sometimes we'd just go off to some local parkland where Alan and Aaron could play football to the point of exhaustion while I made daisy chains with the girls or collected rhododendron petals to make perfume. (It never turned out quite as we'd hoped but we had great fun filling our carrier bags with the colourful blooms). On our trips into the countryside, we walked and climbed, made throwing arrows, chased butterflies, paddled in streams or played Poohsticks from bridges (never played it? Look it up on Wikipedia!) Our visits to the seaside took on a slightly more geological flavour. As well as all the normal beach activities - building sandcastles, swimming in the sea, fending off flies that took a fancy to our ice creams etc etc - we were avid beachcombers. As well as collecting shells, pretty pebbles and bits of broken ammonite, it soon became a family quest to find those two elusive treasures - jet and amber. From an early age, Alan had our kids seriously trained. I mean, have you ever seen a four-year-old pick up a yellow stone and tap it against his teeth to see if it feels soft? (Better hope our dentist isn't reading this...) Don't remember finding too many of the precious fossils, but we sure had a blast trying!
Well, they were happy days, and went by all too fast. Have to say, simple pursuits are still my favourite kind. I'd hazard a guess that my kids feel the same way.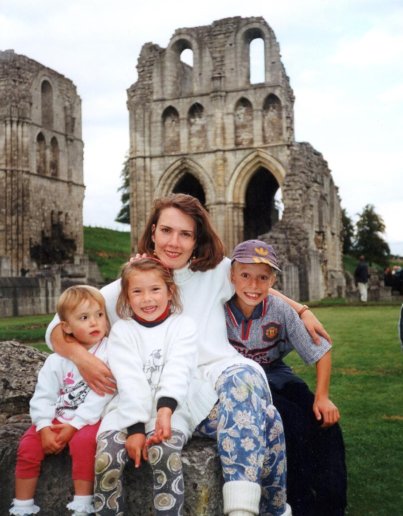 Having a nice day out amongst the ruins of the 12th century Cistercian monastery, Roche Abbey, at Maltby, South Yorkshire.
(Becky and I appear to be sporting medieval troubadour leggings dating from the same period. Oh, the shame of former fashions ...)
Well, these days I love to be out walking with my husband and our Yorkshire Terrier, Benji. We're very blessed to live on the edge of the countryside, so it's just a matter of pulling on our boots, hopping in the car - et voilà -within a few minutes we're standing in the midst of pastoral perfection. Benji, being an excitable, slightly loopy little chap, is never happier than when he's off the lead. Whether he's exploring in shady woodland, surfing through fields of long, lush grass or picking up scents on well-trodden pathways, he always has a whale of a time. (We know that by the way he drags his feet and sulks when he senses we're heading back for the car.) As for us, we like to make sure we have a flask of tea on our travels. Quintessentially English, the two of us, we believe tea is a requirement for all good trips out. (And if you take your own, you'll save yourself a bob or two.)
Anyway, a quick round-up of three of my favourite 'nature' things. Birds. Don't know if you've ever noticed just how noisy nature is. I mean, how can one little chaffinch be so loud? I think birdsong is one of the most glorious things in all of creation. Life can get so incredibly busy, it's easy to step outside and not even notice the glorious symphony of sound all around. But it's there alright, just waiting to be listened to. Clouds. I like to think of clouds as God's interactive painting. Seasonal variations aside, much of the scenery around us stays pretty constant. The sky, on the other hand, changes all the time. Wall-to-wall sunshine with nothing but crisscross contrails to break up the blue, brooding asperatus that looks like a sea coming to the boil, crepuscular sunsets that give us a tiny glimpse of heaven. Clouds are simply magnificent!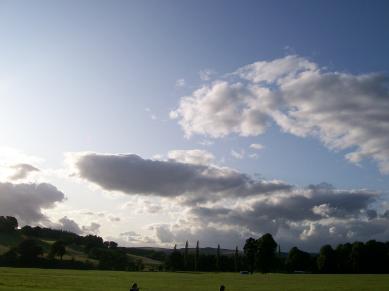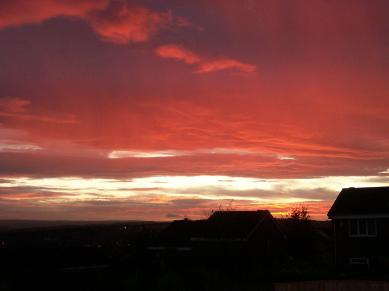 Stars. I just love to get into the countryside, away from all the light pollution, and stare up at the heavens. Kinda puts everything into perspective, doesn't it? From an early age, I was always fascinated by the night sky. The vastness of the universe has always both terrified and thrilled me. As a child, the infinite panorama seemed to call out to something deep within my soul; later, as an agnostic student, the same view petrified me with a sense of cosmic aloneness. I remember something my dad said shortly after I became a Christian just before my twenty-first birthday. He remarked that as a little girl I'd always seemed to struggle with an inner dissatisfaction. 'We could've given you the moon,' he said, 'and it wouldn't have been enough.' Observing me after I committed my life to Jesus Christ, he told me he knew that I'd finally found what I'd always been looking for.
He was right.
Copyright © Julie Maria Peace 2012